Heidi August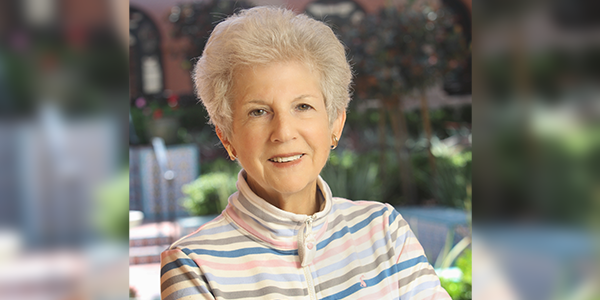 Getting to know Heidi August
Encore Society and Women's Auxiliary member, fundraiser, and Compeer are just a few of the many hats that volunteer-extraordinaire Heidi August has worn during her nearly 10 years of service to the Music Academy of the West. Heidi retired from the Central Intelligence Agency in 2004 after serving 36 years as an Operations Officer. She was living in Arizona when she first heard about the Academy from relatives who lived in the Santa Barbara area. At the time, she regularly attended the Tucson Symphony but didn't yet have a particular affinity for classical music or the opera. That all changed when she attended her first Summer Festival in 2009; after sitting in on one of Marilyn Horne's masterclasses, she became hooked.
An avid Compeer, Heidi first became excited about the program upon bumping into a Compeer couple dining out with their fellow one evening at the Montecito Inn. In 2011, Heidi welcomed her first fellow, and helped him celebrate his 18th birthday in Santa Barbara with a bassoon-shaped cake that she had specially ordered for him.
As a Compeer, Heidi has truly embraced the Academy's relationship-driven culture. She got to witness Julia Metzler ('17, '18) in a private Metropolitan Opera National Council Audition on the Met Stage and alumnus Avery Roth-Hawthorne ('15, '16, '17) took her on a tour of The Juilliard School. She always enjoys hosting her fellows' families when they visit our community.
In 2015, Heidi became a permanent fixture on the Santa Barbara – and Music Academy – scene after relocating to the area full-time. Heidi's dedication and commitment to the Academy over the years has been unwavering. She can be found most days on campus, volunteering at either The Rack or The Treasure House or attending Women's Auxiliary and fundraising committee meetings. Heidi's support extends beyond the Academy campus as well. For example, she plays an integral role in driving the CARS automobile donation program that each year raises funds to support the Academy's full-scholarship program.
Like many others, Heidi learned about the Encore Society, which she joined in 2017, from her dear friend Eve Senn. Following Eve's passing, Heidi and a group of her Compeer friends dedicated a seat in Hahn Hall to Eve's memory. As a recent member of the Encore Society, Heidi says, "It is the gift that keeps on giving. I want to make sure that when I am no longer on the scene I am contributing to the culture. It is incumbent upon us to continue the legacy."
Heidi continues to build upon that legacy each and every day through her hard work and devotion to the Music Academy. She is an active member of the Council of Contributors and serves on the Advancement Committee. The next time you see Heidi volunteering as an usher or in The Rack and The Treasure House, be sure to thank her for all she does to help the Music Academy thrive!
This article originally appeared in the 2018 Summer Festival Program Book.