Sheila and Jim Davidson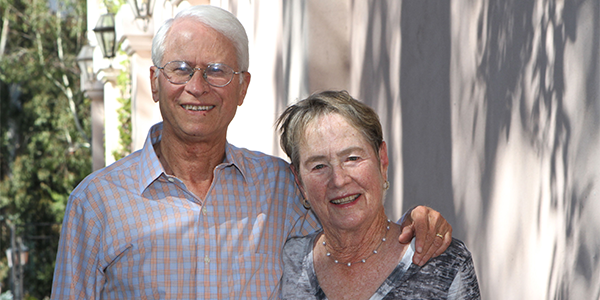 "Nothing Compares to the Academy" Sheila and Jim Davidson
Sheila and Jim Davidson know firsthand how nonprofit educational institutions benefit the wider community. So when the time came to update their estate plans, the couple didn't hesitate to include a provision on behalf of the Music Academy of the West and become members of the Encore Society.
"Aside from the obvious tax advantages, it's really a very painless way to support the Music Academy, in that the gift is made after you're gone. In the meantime, the Academy can plan for coming years knowing what to expect in the way of future support," said Jim, a former Academy Board chair.
"We like the idea of making an enduring contribution to the Music Academy, one that will enable the Academy to do the important work it does for years to come," added Sheila.
As an attorney specializing in estate and tax planning, Jim is well-versed in the considerable benefits of making a planned gift. His practice at the Santa Barbara-based firm Fell, Marking, Abkin, Montgomery, Granet & Raney consists of planning and drafting wills, trusts, and family limited partnerships. He also serves as general counsel to a number of non-profit organizations, including several independent schools.
"The thing to keep in mind is that gifts large and small yield tax advantages, and gifts of all sizes have a lasting effect on the Music Academy's future," he said.
Sheila, who serves as vice president of the Fund for Santa Barbara Board and for many years was the business manager and coached girls soccer at Crane School, says the Music Academy's educational aspect is especially appealing.
"Jim and I have been involved with a great many local nonprofits, including arts presenting organizations, but nothing really compares to the Academy," she said. "Beyond the wonderful music we hear there each summer, there is something deeply inspiring about its mission to develop future generations of outstanding musicians. That's why we became Encore Society members."
This article originally appeared in the 2015 Summer Festival Program Book.