Sue and Maurice Faulkner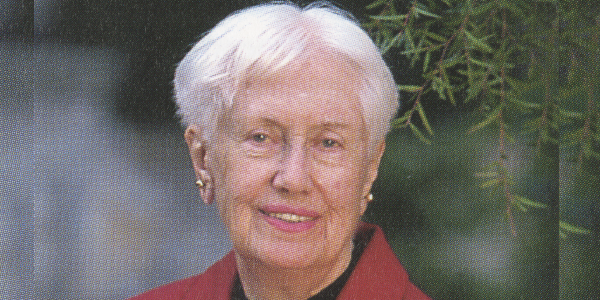 Photo by: Leslie Holtzman
In 1953, Sue Faulkner first came to Santa Barbara from Chicago to visit her parents. Since the weather was so ideal, she moved to the area. She immediately became involved with the Woman's Auxiliary.
At the time, Maurice Faulkner was a highly respected University of California, Santa Barbara music professor and one of the founding members of the Music Academy. He was president of the Academy's board of directors when he addressed the newly founded Music Academy Auxiliary and first met his future wife. Sue and Maurice married in 1958.
The Faulkners' 36-year marriage and love of music took the couple around the world, as Maurice wrote critical reviews of major international music festivals for magazines and newspapers. Sue assisted Maurice with his research in Bronze Age musical instruments by finding sources of information and proofing his writings. Sue's ability to translate historical documents form German and French contributed to Maurice's articles and lectures. Throughout their travels they ran into Academy alumni like Grace Bumbry, whom they saw perform at the Paris Opera, and Thomas Moser, who stayed at the same Vienna hotel.
Maurice's life was one of music. Trumpet was not only Maurice Faulkner's favorite instrument, but the focus of his entire career. He was also a conductor of wide experience, including the University Orchestra and the UCSB Brass Choir. He was passionate about inspiring youth and formed the All-California High School Symphony Orchestra. In addition, he was an active music journalist and critic, writing for many publications including the Santa Barbara News-Press, Saturday Review, and International Herald-Tribune.
Maurice and Sue were passionate about the Music Academy, with Maurice serving as chair from 1949-1953 and Sue a long-standing member of the Auxiliary and serving also as president. After Maurice's passing, Sue lovingly underwrote two faculty chairs in trumpet and four student scholarships in trumpet. Through a trust provision made during their lifetimes, Sue and Maurice were founding members of the Encore Society.
As Sue stated in an article in the Orchestrating the Future newsletter, "The Music Academy is an ongoing organization and long-term financial support seems to be where I can help the most. The Encore Society is growing and I'm thrilled to see it." The Music Academy is proud to have had the support of Sue and Maurice during their lifetime and as part of their legacy.