Gray Felstiner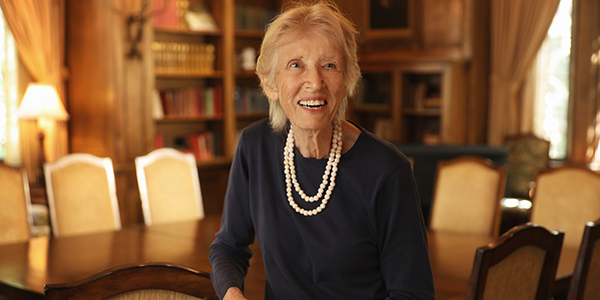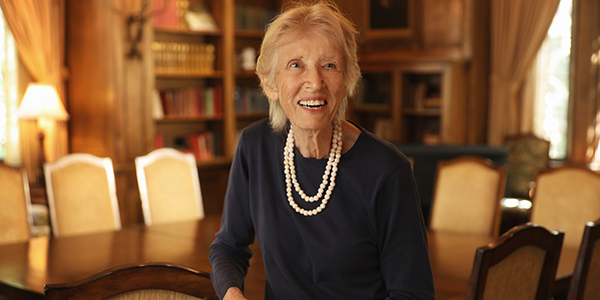 Just about anything seems big when you're small, which means things that already are big—a large room in a large house, for example—can seem practically enormous. And that's exactly how Lehmann Hall in the Music Academy's Main House stands out in Gray Felstiner's memory. "I remember coming to this house when I was five, maybe six years old and walking into Lehmann Hall with my parents. They were not small people, my parents, and a child is only 3 feet tall, so I was this little thing like a Pomeranian. It felt like a very long walk across the room."
Those experiences are etched in Gray's mind, her first memories of the home that would eventually become the Music Academy of the West. Yes—would eventually become. That's because at the time that five- or six-year-old Gray was walking into that impressively sized room, it wasn't to attend a concert or a masterclass. It was to accompany her parents as they visited with Mary Jefferson, the longtime previous owner of the beautiful Montecito estate that the Academy now calls home.
Gray Felstiner knows the Music Academy better than just about anyone on earth, and not just because her earliest experiences with this place date from before the Academy even existed. Her mother, for example, was one of a number of Santa Barbarans who was involved in the committee meetings and discussions that eventually led to the Academy's founding in 1947. Then there's her most direct connection: she's an Academy alum.
Gray attended the Academy in 1948, just a year after its first Summer Festival and still three years before it was gifted the home where she had visited Mary Jefferson. She was 16 years old and as a local student made the drive daily from her family's home in Montecito to the Cate School in Carpinteria where all activities were held at that time.
"My mother was a very serious amateur pianist, but she focused on solo piano. So, I grew up listening to piano concertos and piano sonatas. When I got to the Music Academy, there were other instruments." Gray's face lights up as she recounts this important point. "I discovered chamber music, which has kept me in delight my entire life. Going to workshops, playing with strangers, preparing wonderful music, making lifetime friends."
She also heard operatic singing for the first time. "I've spent my life as an opera lover because of what I was introduced to that summer. I already loved music, but the Music Academy gave me so much more music to love."
Gray went on to study Slavic linguistics at Bryn Mawr College and has a master's degree in the subject from Yale. She also completed many hours of doctoral work in the field but was "too lazy" to finish a dissertation. ("You can put that in," she told me with a chuckle. "It pleases me.") In 1972, she returned with her family to Santa Barbara and has been here ever since. She describes her musical life post-Music Academy as "continual;" it's comprised of thousands of hours of solo piano playing for her own pleasure and lots of chamber music, either with her friends or as part of the chamber music classes at SBCC. And come summertime, you'd be hard pressed to find too many days where she isn't attending something at the Academy. "That summer changed my life -- one million percent," she recalls of her time in 1948. It's no surprise, then, that she's been watching for decades as generations of young musicians have been presented with the same life-changing experience.
If you've ever run into Gray at a Music Academy event, she was probably quick to introduce herself as the Academy's oldest living alum. It's an honorific she wears with pride. Don't let the superlative "oldest" fool you, though, because at 89 years of age Gray has an energy and an enthusiasm that would put to shame someone a quarter of her age. She's an avid musician, a frequent concertgoer, an Academy compeer, and an expert conversationalist. When you see her around this summer, you should take the chance to avail yourself of some of that conversation. I promise, you won't be disappointed.