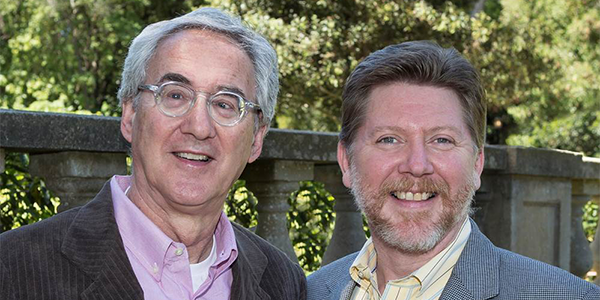 "We take it all very seriously." Tim Cardy and Ronnie Morris
For Tim Cardy and Ronnie Morris, participation in the Encore Society was the next logical step in their evolving relationship with the Music Academy of the West. Having steadily deepened their ties to the organization in recent years, the pair thought it only fitting that they make a gift that will benefit the Academy for decades to come.
"We wanted to make a lasting contribution and help create a legacy for the community and for classical music generally," explained Tim, an agent with Sotheby's International Realty in Santa Barbara.
"We strongly believe that classical music should be broadly accessible and that everyone should be actively encouraged to appreciate this wonderful art form," added Ronnie, the owner of a tax preparation and financial services consultancy in town.
An accomplished tenor in his own right, Tim had been attending vocal events at the Music Academy for years when he and Ronnie met a certain friend of a friend, who over dinner urged the pair to become more involved in the Academy's program. The man in question was none other than former Board member and longtime Academy benefactor Bob Weinman. The rest, as they say, is history.
Soon thereafter Tim and Ronnie became Council of Contributors members before upping to the Luminary Patron giving level last year. They also generously supported the construction of the Luria Education Center.
"It's all Bob's fault," quipped Ronnie, himself a former drummer.
Ronnie and Tim are also enthusiastic participants in the Music Academy's Compeer Program, and have been paired with piano and voice Fellows over the course of several Festival seasons.
"We take it all very seriously," said Tim. "The Music Academy is very important to us, which is why we're now members of the Encore Society."
This article originally appeared in the fall issue of Fanfare 2017.