Carol Kosterka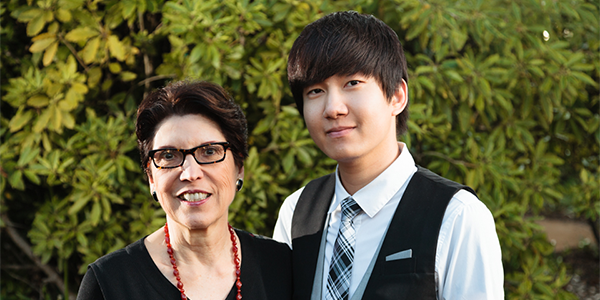 Carol Kosterka – "I can't imagine a world without music."
Council of Contributors member Carol Kosterka encourages others to join their ranks to support the young musicians of the future. Carol got involved with the Academy back in the 1990s when she and her husband Don moved from Los Angeles to Santa Barbara. After joining the Council, she became a Compeer, where she felt connected to the intimacy of the Academy and befriended the fellows. She recalls fun, informal events at Council members' homes, meeting artists, and
learning more about the Summer Festival.
Carol keeps in touch with the alumni through emails, Facebook, and with many personal visits. She speaks frequently with cellist Katerina Juraskova ('98, '99), now a new mother. She enjoys visiting pianist Dong-Wan Ha ('15) in Chicago, where he studies at Northwestern University. She's also proud of cellist Michael Nicholas ('02), who recently performed in Santa Barbara with Brooklyn Rider. "What I love most is keeping in touch. The fellows have become a part of my family. I now have friends all over the world," she said.
"Music is such a primal experience. It's emotional. You don't just connect with the music, but also the musician. I can't imagine a world without music. It's not something I could ever give up," she added, passionately.
Carol is an enthusiastic advocate for sustaining the Music Academy. "I got involved with the Encore Society because I'd like to do more. It's important because it let's me leave something as a legacy. I enjoy having young people in my life – they're our future. The Music Academy gives us the opportunity to participate in something unique and I want to be a part of supporting it."
This article originally appeared in the 2017 Summer Festival Program Book.